Beautiful Authentic Silver 1/2 Crown, Great Britain, William & Mary, Dated 1689
---
Beautiful Authentic Silver 1/2 Crown, Great Britain, William & Mary Dated 1689.  Wonderful toning.
Reference: KM# 472.2; ESC-505
GVLIELMVS · ET · MARIA · DEI · GRATIA , First laureate and draped busts of King William III and Queen Mary II right.
MAG BR·FR ET· HIB REX· ET. REGINA. 16 89·, Crowned shield.
WEIGHT: 14.9 grams.
King William III and Queen Mary II (1689 - 1702)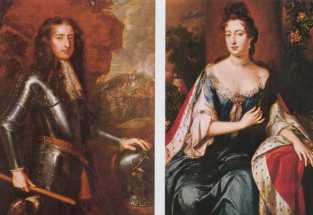 Name: King William III and Queen Mary II
Full Name: William Henry Stuart
Born: November 14, 1650 at William: The Hague, Netherlands; Mary: St James Palace, London
Parents: William: William II of Orange and Mary Stuart; Mary: James II and Anne Hyde
Relation to Elizabeth II: 2nd cousin 8 times removed
House of: Orange
Ascended to the throne: February 13, 1689 aged 38 years
Crowned: April 11, 1689 at Westminster Abbey, when William was 38 and Mary was 26
Married: William married Mary, daughter of James II
Children: Three stillborn
Died: March 8, 1702 at Kensington Palace (William), aged 51 years, 3 months, and 21 days
Buried at: Westminster
Reigned for: 13 years, and 21 days
Succeeded by: Mary's sister Anne
William was born in The Hague in the Netherlands. He was an only child and never knew his father William II who died of smallpox before his birth. His mother was Mary eldest daughter of Charles I of England. William was appointed Stadtholder (chief magistrate) and captain-general of the Dutch forces in 1672 to resist the French invasion of the Netherlands. He forced Louis XIV to make peace in 1678 and then concentrated on building up a European alliance against France. In 1677 he married his cousin Mary, eldest daughter of James, Duke of York, the future James II. The marriage was intended to repair relations between England and The Netherlands following the Anglo-Dutch wars. William was a successful soldier, but had several male favourites, was dour, asthmatic, 12 years older and several inches shorter than his English wife Mary who was a reluctant bride.
In 1688 they were invited by the parliamentary opposition to Mary's father James II to take the crown on England and were assured of English support. William landed at Torbay on 5 November 1688, in 463 ships unopposed by the Royal Navy, and with an army of 14,000 troops which gathering local support grew to over 20,000 and advanced on London in what became known as 'The Glorious Revolution'. James fled to France, and in February 1689 William and his wife were crowned King William III and Queen Mary II. Parliament passed the Bill of Rights which prevented Catholics for succeeding to the throne ensuring that Mary's sister Anne would become the next queen, and after the autocratic rules of Kings Charles II and his brother James II limited the powers of monarchs so that they could neither pass laws nor levy taxes without parliamentary consent.
William and Mary were faced in 1689 with two Jacobite attempts to regain the throne. In Scotland government troops were defeated at Killiekrankie by Scottish Jacobites but won shortly afterwards at Dunkeld, and James II landed in Ireland with French troops and laid siege to Londonderrry. William's navy relieved the siege and he led is army to victory at the Battle of the Boyne in July 1690. James fled back to France. William returned several times to the Netherlands but found the English parliament reluctant to support his continuing war with France. The Bank of England was founded in 1694 to control public expenditure. Williamsburg and the college of William and Mary in Virginia, were named after the King and Queen in 1693.
Mary died of smallpox in 1694 and had no surviving children. William now ruled alone. The Peace of Rijswijk in 1697 marked the end of the war with in Flanders with Louis XIV. William formed an alliance between England, Holland and Austria to prevent the union of the French and Spanish crowns. This became known as the 'War of Spanish Succession'. In 1701 following death of Prince William, the only surviving son of Mary's sister Anne, the Act of Settlement was passed ensuring succession of Protestant heirs of Sophie of Hanover instead of the Catholic heirs of James. William died on 1702 of pneumonia following a broken collar bone after a fall from his horse. Because his horse had reputedly stumbled on a mole's burrow Jacobites toasted 'the little gentleman in the black velvet waistcoat.'
King William III's Signature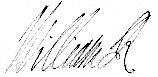 TTI-543021