Pawn Stars
Click Here to Visit Gold and Silver Pawn 
Produced by Leftfield Productions, the History Channel's released its break-out TV hit series Pawn Stars on July 26, 2009. The reality TV show features Richard Harrison and his family-owned World Famous Gold and Silver Pawn Shop on the Las Vegas strip. They buy, sell, and appraise items of historical value. The shop gang calls in experts to appraise rare or exotic items; Sean Rich was one of those experts.
Viewers are hooked by this reality TV show's ability to capture a customer's sheer disappointment when their item ends up being a fake; or, on the contrary, a customer's pure elation when their item is worth double what they anticipated!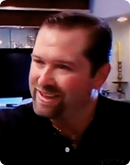 Sean Rich is a Master Antique Gunsmith and has appeared in over 50 episodes of Pawn Stars since it debuted in 2009. He's usually called in when the gang needs antique guns, swords or other armory appraised and his visits are always fun. Rich has been the go-to guy for these types of appraisals.
All of the characters in the show have great TV personalities, but Sean's passion and excitement for his field is extra fascinating to watch, especially when he is brought a genuinely rare piece. Sean's great appreciation for history is transparent throughout the show; his enthusiasm is infectious. Before Pawn Stars came along, a lot of people really didn't know anything about antique guns or why they were important, but Sean Rich's character on the show gives viewers a much greater appreciation for the value of these fine pieces of history.
The Characters:

Richard 'The Old Man' Harrison - a.k.a. "The Appraiser"

Corey 'Big Hoss' Harrison

Rick 'The Spotter' Harrison

Austin 'Chumlee' Russell

Drew Max

Danny 'The Count' Koker

Sean Rich

Rick Dale

Mark Hall Patton

Craig Gottlieb

Antwaun Austin

Johnny Jimenez

Jeremy Brown

Jesse Amoroso

Rebecca Romney

Brett K. Maly

Olivia Black

Bob Yuhas

Murray SawChuck

Dana Linett
Below are some pictures of Sean and the 'Pawn Star' gang:
®